Wellbeing | BEAM Virtual Workshops
Please see the useful information below regarding BEAM services.
Shropshire Telford & Wrekin Beam are currently focusing on Oswestry and Whitchurch as part of a pilot project in order to raise awareness of the service and support young people in areas which have been historically hard to reach.
Until the end of March 2021 BEAM are offering virtual sessions for parents/carers as follows, on various dates:
Information about the Beam service: what Beam can offer to young people and families.
Managing anxious behaviours in children and young people: an introduction to anxiety, and some straight-forward suggestions as to how these can be managed by parents.
Sleepy Heads: a 2 session workshop around sleep.
Please see the below poster and pdf, which details information regarding these sessions BEAM are offering – the times and links for the meetings are included in these.  We encourage any parents/carers to attend who feel they would benefit from these sessions.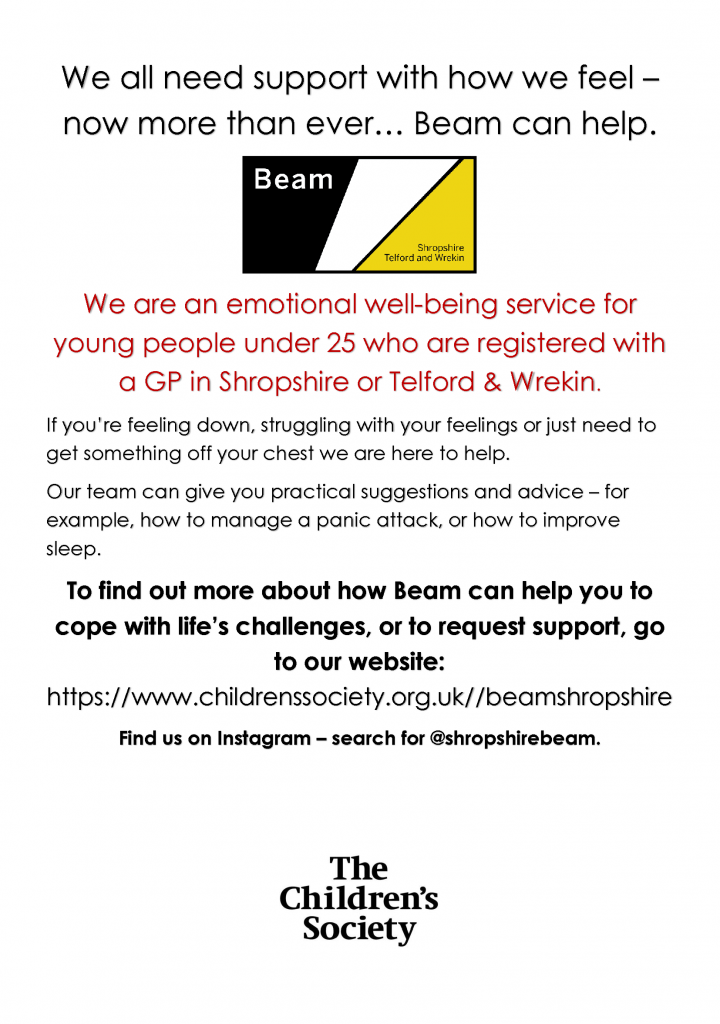 Parent/Carer BEAM Sessions schedule (Feb-March 2021)
Primary Schools in the Oswestry and Whitchurch areas can book virtual sessions for the young people they have attending school.  The sessions BEAM are offering will be held during school time and are:
Emotions, Health & Happiness: looking at ways to improve our emotional wellbeing.
Sleep.
Understanding emotions: what are emotions and how we can recognise and manage these.
Additionally, all schools can request parent/carer sessions specifically for their school. Beam deliver these on a first-come, first-served basis.
Shropshire Beam continues to offer support for all young people under 25 across Shropshire.  This is done via a phone call-back service, and BEAM are now offering virtual face to face sessions.
For education settings 11+, they can offer virtual Beam information sessions for parents/carers as well as young people.
Further information:
Website – BEAM Shropshire Telford and Wrekin
Email – shropshirebeam@childrenssociety.org.uk
Posted by marchesadmin on 12th February 2021, under Uncategorised
---
Previous Post:
Time Capsule
Next Post:
Wellbeing | BEAM Virtual Workshops