Vision and Values
Matthew 5:6
'Let your light shine before others, so that they may see your good works and give glory to your father in heaven'
Our school, based upon Christian Values provides a happy, safe environment which enables each individual to achieve their full potential and become a well balanced and responsible person.
Through our vision the children are encouraged to develop these values:
To tell the truth;
To respect the rights and property of others;
To act considerately towards others and treat everyone equally;
To help those less fortunate than themselves;
To recognise the good in others;
To take personal responsibility for one's own actions;
To be self disciplined.
The Marches Academy Trust Vision and Values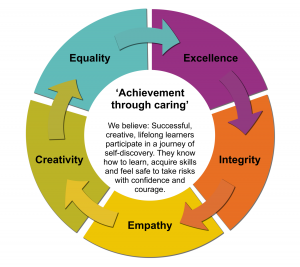 The Marches Academy Trust core values:
Excellence – striving always for mastery and personal success
Integrity – consistently acting with honesty, compassion and respect
Empathy – embracing and supporting the uniqueness of every individual
Creativity – inspiring and challenging through invention, experimentation and exploration
Equality – ensuring fair opportunity for all
Tilstock C.E. Primary School and Nursery aims to:
Provide each individual child with an attractive, stimulating, caring, learning environment, where all members of it's community are valued.
Promote high standards of behaviour.
Continually raise the standards of all pupils' work
Place the education of the whole child at the centre of our school ethos.
Recognise each child as an individual. Activities are planned to address their specific needs.
Enable all children to achieve their full potential through the broad, balanced and challenging curriculum.
With an aesthetic awareness within a happy and secure environment, we will offer our pupils opportunities to grow:
intellectually,
morally,
spiritually,
physically
and emotionally.
Our aims can only be achieved by increasing the confidence, trust, tolerance and care between all members of the school community. Through your support and co-operation, positive attitudes towards school and learning will be attained and developed by all pupils during their time at Tilstock C.E. Primary School and Nursery. The school provides a range of experiences to enhance the children's learning, including inviting visitors into school and school trips.