Curriculum
Curriculum Statement
At Tilstock CE Primary School, our staff and governors are committed in providing a positive, nurturing and emotionally safe environment, where children feel empowered and motivated to care about themselves and their school.
Through powerful projects and meaningful experiences, we provide regular opportunities for children to contribute, create and to be recognised for their individual talents.
Our pupils feel confident in developing the relevant key skills and knowledge, required in a way that progresses naturally from year to year, across the curriculum.
In partnership with parents, staff, the Church and the community, our pupils are enabled to flourish and achieve their full potential through love, aspirations, positive role-models, underpinned by our Christian Values.
Our curriculum is firmly rooted in and stems from our core aims.

Our curriculum coverage provides:
Opportunities that develop a love of learning.

A wide range of experiences which make learning relevant and to the pupils.

Opportunities for pupils to investigate, make links and apply their skills across the curriculum.

Opportunities for pupils to share their learning and learn from others




tools and skills pupils need to become independent learners.
To view our curriculum statement in its entirety please click here.
Autumn Term 2019
Nursery – Reception Curriculum Autumn Term
Year 1 – Year 6 Curriculum Autumn Term
Tilstock Learning Powers are supported by Brilly Tilly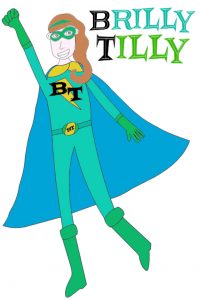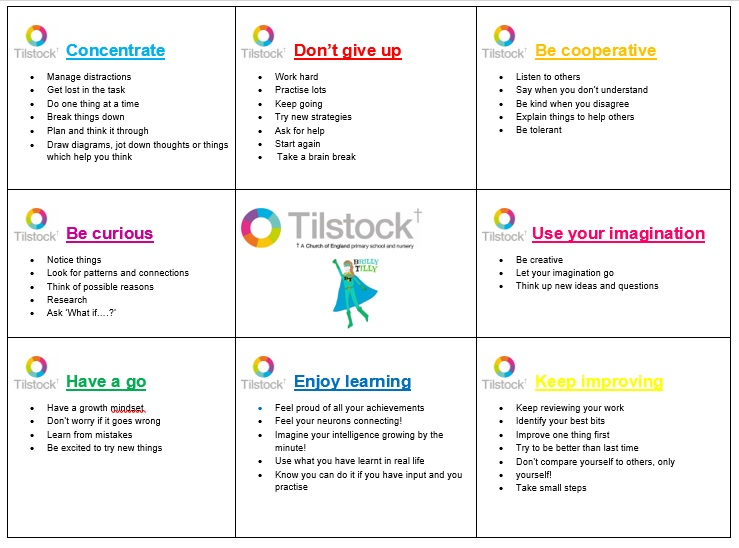 The mathematics curriculum is made of three different strands: fluency, reasoning and problem solving. The school follows the White Rose Maths scheme of learning.
Times Tables
At Tilstock School, we are part of Times Table Rock Stars; an exciting and fun way to learn our times tables.
Reading and Phonics
Phonics
At Tilstock School, synthetic phonics is taught as the main approach to early reading. Daily phonics sessions are taught from nursery to Year 2, but for some children the teaching of phonics continues in Key Stage 2 if this is necessary. These sessions follow the government published programme of 'Letters and Sounds'. Each session is a daily 30-minute structured lesson, where the children have the opportunity to practice reading and writing. It is a fun session with lots of speaking and listening and working with a partner.
'Letters and Sounds' is split into 6 phases. These are expected to be taught during the following years, however this again may vary according to the needs of the children.
Phase 1                        Nursery
Phase 2, 3, 4                Reception
Phase 4, 5, 6                Year 1
Phase 5, 6                    Year 2
Reading
At Tilstock School our core reading scheme is the Oxford Reading Tree, however this is supplemented with a range of schemes which will support your child in the process of learning to read. Once we are happy that your child has reached a certain level within the scheme they become 'free readers' which means that they move onto short stories and short fiction books, this can be at any point in your child's learning journey, it all depends on the individual child.
During each week, your child will be involved in a variety of reading tasks such as:
Reading with the teacher during guided reading.

Reading with a teaching assistant on a one-to-one basis.

Reading independently during our daily reading time.

Paired reading.

Reading as a class or group.

A follow-up activity, which could involve working in their Reading Journals or completing a quiz on Accelerated Reader.
Please also read with your child at home and encourage them to read for pleasure.
Accelerated Reader
We use Accelerated Reader at Tilstock School. It is a great way of measuring and monitoring children's reading ages (every term), and is really helpful in tracking the progress of children who are no longer on 'book bands' and are considered 'free readers'.
Children usually start to access the programme in Year 1 or 2, whenever they are ready to move away from book bands. Once they start, you will see their reading age in their reading records (which you can compare to their actual age), and you will see a book level which should help your child to choose reading books at an appropriate level.
Writing
Religious Education
As a Church of England school, two thirds of our RE curriculum focuses on Christianity. For these elements of RE, we use 'Understanding Christianity', a new resource which is informative and engaging, and endorsed by Lichfield Diocese.
Our long term planning can be found below:
Personal, Social, Health and Economic Curriculum
British Values
Below is an outline of how we at Tilstock School promote British values, and support the spiritual, moral, social and cultural development of all pupils.
PHSE and Citizenship
Below is an outline of what is covered as part of our PHSE curriculum in each term, and in each year group.Some of the topics are covered as discreet PHSE lessons, and others are incorporated into other areas of the curriculum.Not all of the topics will be covered every year; issues are addressed on a rolling programme, re-visited at different depths, and are often moved to different times of the year according to the needs of the pupils.
Wider Curriculum
For more detail about the current topics, please refer to the class pages under the Parents and Students section on our website.